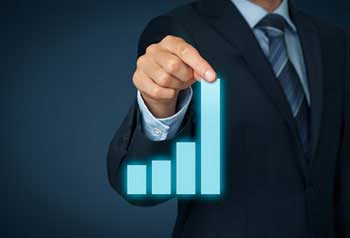 Everything will be different if nothing changes.
Facilitate your targeted success with broad professional experience.

Do you still have the mojo, the spirit to think, plan and act like a founder? Recent research shows that 85% of the root causes for failure to maintain profitable growth are now internal to the company, and therefore controllable to the management team and the executives. No matter if you start a company afresh, innovate, need to re-align or have to go through a turn-around, we are committed to support and advise you in order to thrive in your executive role.
While leadership-style and management-tools require constant adjustment to match size and level of maturity of an organization in any kind of market, the underlying principles of managing the strategy and success of your organization do rarely change.

According to research of Yale University, the average life span of companies has decreased from 67 years during the 20s of the last century to just 15 years today. In other words, within just over a decade, a significant number of markets will be dominated by companies you have not even heard of by today. The only reliable constant is change and the most important factor for survival is an emphasis on innovation and re-invention. When companies have run their course, they apparently get either bought or in tragedy might experience pre-mature deaths.

So, how do you actually manage constant change within continuously shortening cycles of necessary adjustment? What share of profits does your company generate from services or products being introduced during the last four to five years? Can your employees recite the reason of being in their respective role and the business unit as well as the boundaries designed around the key factors of success. What are the "does and don'ts" within your strategic activity mappings and can your line-managers finally explain it to you or your target customers? Does your IT architecture and core business process software still stop you from performing or successfully support your strategic activities in order to achieve excellence in delivery and customer experience?

Our seasoned team of advisors constitutes by steadfast senior executives with strong expertise in strategic management and international marketing. The long-term experience of running organizations or large corporate initiatives is combined with specialized knowledge in business and enterprise IT-architecture required to facilitate national and international strategic initiatives. From a personal as well as organizational value perspective, we are proud to have successfully advised senior executives in managing their often well-known international corporations, e.g. in industry sectors like financial services, logistics, energy, medical devices or even professional sports to optimize the expected longevity of blossoming. Your long-term success as an executive is our passion. We will be very pleased to discuss your current issues in a brief call and to collaboratively define how we probably could support you best.